Product Description
Main Features:
The  corner band sawing machine is mainly used for sawing workpieces with cross-sections such as H-beam, channel steel, box-beam, and round steel.
1. The moving guide of the saw blade guide device of the band saw is also guided by double guide rails, and the guide device of the saw blade is more stable, so that the life of the saw blade can be increased by 10%.
2. The upper pressing device of the machine tool realizes automatic adjustment of the position, and the position can be adjusted according to the size of the section steel.
3. The band saw blade adopts hydraulic tension, and the saw blade also maintains a good tension force in the fast movement, which prolongs the life of the saw blade. The user can adjust the pressure according to the size of the section steel; and there is a detection device when the saw blade is broken. If the machine tool is defective In the event of a situation or failure, the machine will automatically sense and stop.
4. The safety protection of the machine tool is more perfect, and the appearance design is more humanized.
Technical Specs
Model
GZ4232
GZ4235
Max. Cutting Diameter
mm
Round: 320
Round: 350
Square: 320*320
Square: 350*350
Blade Speed
m/min
26.41.55.79
26.41.55.79
Blade Size
mm
1.1*34*4115
1.1x34x4115
Motor Output
kw
4
4
Hydraulic Pressure
kw
0.75
0.75
Coolant Pump
kw
0.09
0.09
Machine Size(L*W*H)
mm
2200*1900*1600
2200*1900*1600
Net Weight
ton
1.4
1.4
Vice clamping
Hydraulic
Blade tensioning form
Manual
Feeding cut adjust way
Hydraulic stepless
Feeding way
Automatic
Hydraulic cooling way
Water cooling
Chip conveyor way
Manual
Voltage
380V 50HZ 3Phase (can be customized)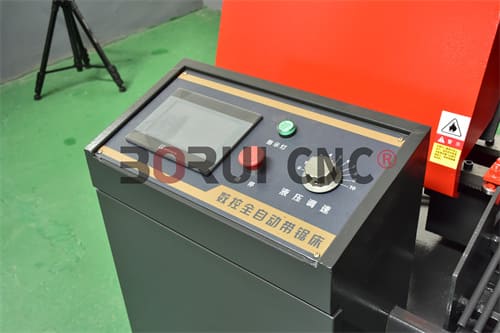 TOUCH SCREEN STEPLESS SPEED REGULATION

The touch screen is convenient to operate the feed speed of the machine tool,within a given range,five levels of adjustment can be made.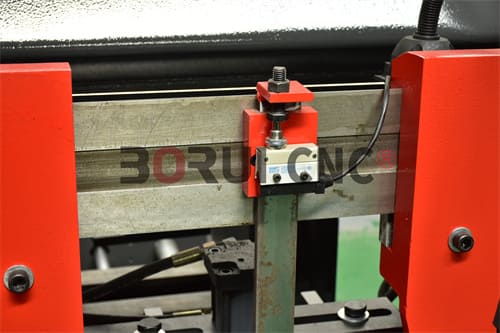 STRENGTHEN THE GUIDE AR, BEAM

Thickened guide arm+adjustable,beam+new guide head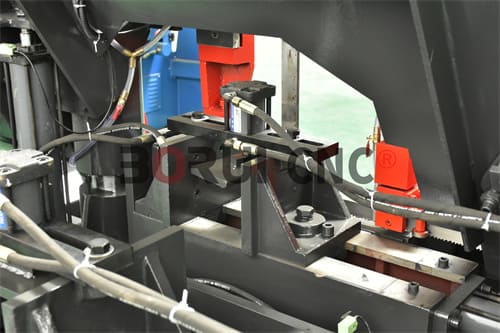 HAN AUTOMATIC HYDRAULIC CLAMPING

The machine tool has the functions of automatic clamping,automatic feeding and automatic retracition through mechanical,electrical and hydraulic cooperation.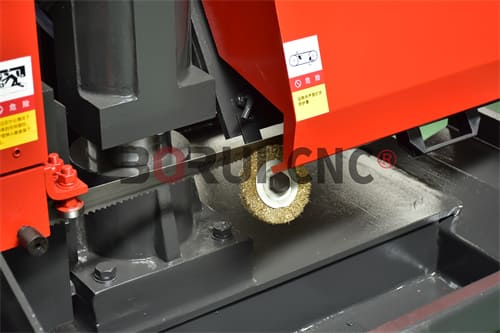 SAW BLADE AUTOMATIC CHIP SWEEPING DEVICE

To prevent the accumulation of sawdust in the saw teeth effectively protect the band saw blade.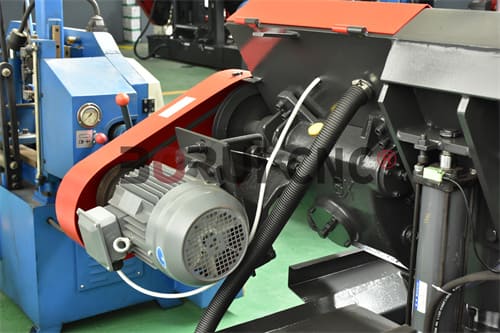 HIGH POWER MOTOR

International standard pure copper core motor,increase turbine wheel,improve sawing effect.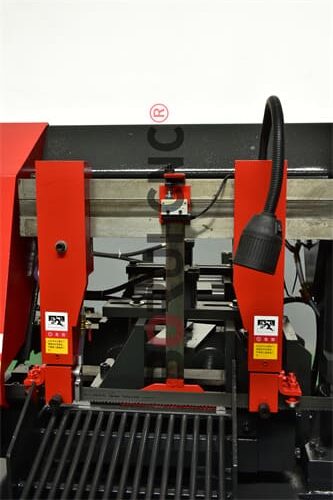 AUTOMATIC COOLING SYSTEM

Double colling system reduce the cutting temperature effectively flush the iron pin and extend the life of the saw blade.
Video Display