Product Description
1.BORUI CA series manual heavy-duty horizontal lathes are suitable for machining cylindrical, conical and other rotating surface workpieces.
2. The width of the guide rail of this series of horizontal lathes is 400mm, which is made of high-strength materials and durable.
3. Adopt humanized single handle operation design.
Technical Specs
Type
CA6140 CA6140B
CA6150 CA6150B CA6150C
CA6161 CA6161B CA6161C
CA6166 CA6166B CA6166C
CA6180 CA6180B CA6180C
CA6240 CA6240B
CA6250 CA6250B CA6250C
CA6261 CA6261B CA6261C
CA6266 CA6266B CA6266C
CA6280 CA6280B CA6280C
Max. swing over bed
400mm
500mm
610mm
660mm
800mm
Max. swing over carriage
210mm
300mm
370mm
400mm
540mm
Max. swing in gap (CA62 series)
630mm
720mm
830mm
880mm
1020mm
Max. effective length in gap (CA62 Series)
210mm
Max. length of workpiece
750/1000/1500/2000/2200/3000/4000mm
Width of bed
400mm
Section of turning tool
25×25 mm
Main spindle motor
7.5kw(10HP)
Spindle
Spindle speed
16--1400rpm(24step)
Spindle bore
52mm (B:80mm),(C:105mm)
Spindle taper
No.6(MT6)(Φ90 1:20)[Φ113:20]
Feed
NO. of feed
(64 kinds)(for each)
Range of metric threads
(1-192mm) (44 kinds)
Range of inch threads
(2-24tpi) (21kinds)
Range of module threads
0.25-48 (module 39 kinds)
Range of diametral pitch threads
1-96DP (37 kinds)
Tailstock
Max. tailstock spindle travel
150mm
Tailstock spindle diameter
75mm
Taper of tailstock spindle centre hole
1-96DP (37 kinds)
Packing dimensions (L*W*H)
Overall dimensions for 750mm
2550×1140×1750mm
Overall dimensions for 1000mm
2700×1140×1750mm
Overall dimensions for 1500mm
3200×1140×1750mm
Overall dimensions for 2000mm
3700×1140×1750mm
Overall dimensions for 2200mm
4030×1140×1750mm
Overall dimensions for 3000mm
4850×1140×1750mm
Overall dimensions for 4000mm
5800×1140×1750mm
Weight (kg)
Overall dimensions for 750mm
2520/2400
Overall dimensions for 1000mm
2720/2560
Overall dimensions for 1500mm
2980/2800
Overall dimensions for 2000mm
3260/3087
Overall dimensions for 2200mm
3490/3287
Overall dimensions for 3000mm
4200/3887
Overall dimensions for 4000mm
4850/4500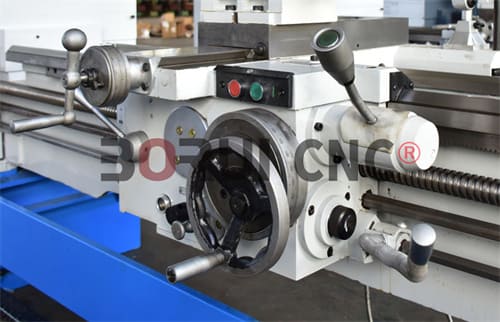 RAPID TRAVERSE DEVICE

Quick device,easy wo operate with on hand.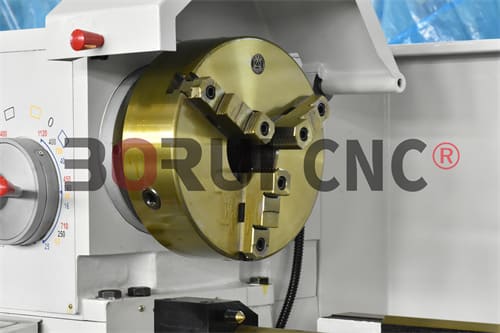 THREE-JAW CHUCK

Standard:Manual tailstock
Optional:Hydraulic or pneumatic type tailstock.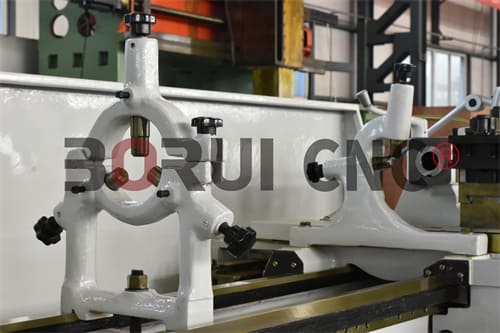 STEADY REST AND FOLLOW REST

Fixed processing helps to process relatively long workpieces.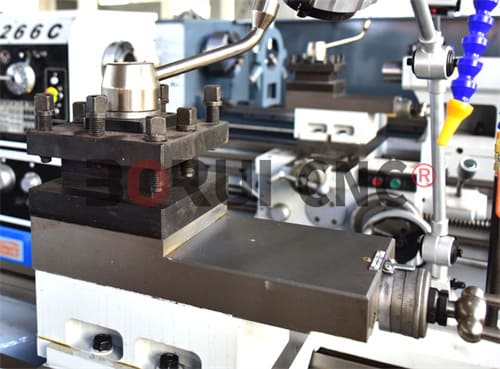 TOOL POST/TURRET

Standard with 4 station electric tool post,6 station electric turret are optional.

QUENCHED RAIL

The guide rail has deep hardening layer,hardness HRC-55,high damage resistance hardness,medium frequency quenching.

2 AXIS DISPLAY

DRO,2 axis digital eadout,need extra cost
Video Display