Slant Bed CNC Lathe 50ZWT
The CNC lathe with inclined bed is easier to remove chips than the CNC lathe with flat bed.
The bed is cast as a whole, with good rigidity, good stability, good chip removal, high speed and good accuracy  guarantee.
The linear rolling guide of the CNC lathe with inclined bed meets the requirements of high speed and high efficiency, reduces frictional resistance and temperature rise deformation, improves machining accuracy, and can ensure the long-term stability of cutting machining accuracy.
The CNC lathe with inclined bed adopts domestic or imported high-rigidity turret tool rest, which has high positioning accuracy and small deformation during heavy cutting.
The CNC lathe with inclined bed adopts the overall inclined bed structure, which can still maintain the stability of the machine tool accuracy during heavy cutting.
The X and Z axis servo motors are directly connected with the precision ball screw through elastic coupling, with high precision, and the two ends of the screw are fixed, which improves the supporting rigidity of the support seat, enables frequent high-speed positioning, and causes the wire caused by heavy cutting. Bar distortion is minimized.
High-precision, high-rigidity programmable tailstock.
In the design of CNC lathe with inclined bed, the spindle box adopts corresponding measures to reduce the thermal deformation of the spindle, so that the relative stability of the spindle axis can be maintained when the spindle works for a long time.
Main Technical Parameters Of 50ZWT
50ZWT
A2-5
A2-6
A2-8
Machine
tool structure
Bed frame
Overall 30° inclined bed
Saddle
Motor bearing seat integrated saddle
Headstock
Lay flat
Tailstock
Square rail plus V rail
Drainage
Rear or side row
Water tank
Rear-mounted independent water tank or side-mounted independent water tank

Chip conveyor
Rear chip removal tank integrated or side chip removal tank split
Spindle motor
installation
Horizontal or vertical
Feed axis motor
installation dimensions
130mm flange 110mm spigot
Protection method
Stainless steel full protection
Travel
parameters
X-axis travel
260mm-280mm
Z-axis travel
510mm
Working desk size
350mm×267mm
Countertop center height
110mm
The maximum rotation
of the machine
500mm
Disc processing diameter
300mm
350mm
350mm
Shaft processing
diameter × length
150mm×500mm
200mm×500mm
250mm×400mm
Spindle
parameters
Spindle model
A2-5
A2-6
A2-8
Spindle outer diameter
170mm
200mm
230mm
Spindle speed
5000rpm
4500rpm
3500rpm
Spindle through hole
56mm
66mm
86mm
Equipped with fixture
A2-5/6寸
A2-6/8 寸 Inch
A2-8/10 寸 Inch
Tail top
parameter
Tailstock structure
Precision sleeve
Tailstock movement
Slide
Tip model
Morse 4
Morse4/5
Morse 5
Sleeve outer diameter
75mm
95mm
95mm
Tip job pressure
5-20KG
Tip itinerary
100mm
Tailstock travel
420mm
Chuck tip distance
600mm
Precision
configuration
X-axis repeat positioning
±0.003mm
Z axis repeat positioning
±0.005mm
X-axis guide model
30 rollers
Z-axis guide model
35 rollers
X-axis screw model
3208/3210
Z-axis screw model
3210/3208/4010
Screw bearing
2562
Outline
weight
Optical machine size
2200mm×1100mm×1250mm
Cover size
2650mm×1500mm×1700mm
Optical weight
3000KG
3050KG
3100KG
Total Weight
3200KG
3250KG
3350KG
X-Axis Servo Motor Seat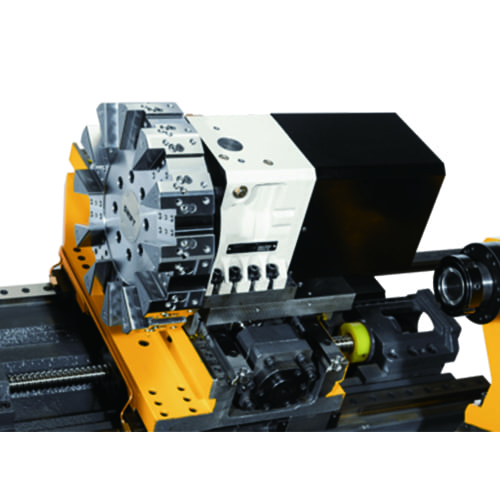 Detail Processing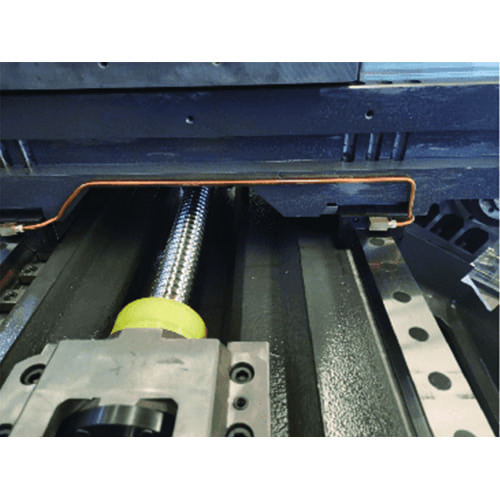 Scraping And Guinding Process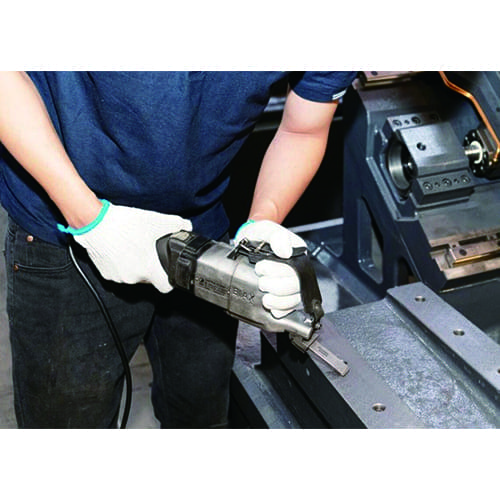 Bed Structure