Introduction Of New CNC Slant Bed Lathe Machine LH260:
The LH260 series adopts an integral inclined bed and flat guide rail structure, a high-rigidity sleeve-type mechanical spindle, an eight-station hydraulic turret, a hydraulic sleeve tailstock, an integral outer protection and an independent inner protection system. The body, saddle, tailstock and other components have been structurally improved, and the main castings have undergone secondary tempering to remove internal stress. Higher precision and quality standards make the product rigid, precise, stable, and environmentally friendly. All in one, it is the trusted choice for high-end manufacturing.·
1. Bed
This series of machine tools adopts a flat guide rail structure with an overall inclined bed with a 30° bevel angle. The whole machine adopts a unique oil-water separation design to avoid the pollution of cutting fluid and prolong the use time of cutting fluid. Z-axis adopts 35 specification precision linear ball guide, which can enable customers to obtain higher machining accuracy and production efficiency.
2. Bed Saddles and Skateboards
The saddle is made of high-density cast iron, which is integrally cast and formed at one time, and the small triangular structure makes the saddle more rigid. Skateboards and turrets are placed on the saddle of the bed. The sliding plate and the turret move on the saddle using a 35-gauge linear ball guide, which has high feed accuracy and low friction resistance.
3. Hydraulic Turret
The standard hydraulic turret has the function of selecting the nearest tool. The internal mechanism adopts the parallel cam design, the splitting angle is accurate, and the tool changing speed is fast. The rotation of the cutter head is driven by a hydraulic motor, with large torque and stable tool change. The hydraulic locking of the double toothed disc and the reasonable appearance optimization make the center of gravity lower, the force and impact resistance are better, and it is more suitable for heavy cutting.
4. Turning Spindle
The turning spindle adopts a sleeve-type integral spindle unit. The large-span symmetrical headstock structure has the characteristics of uniform heat dissipation, small thermal offset, stable precision and strong rigidity. The joint surface of the headstock and the bed adopts the paired scraping process to ensure the contact rigidity. The servo motor directly drives the main shaft to rotate through the belt, which reduces the power loss of the mechanical transmission. The spindle has fast start-stop response and stable rotation.
5. Hydraulic tailstock
The tailstock body is dragged by the saddle and moves as a whole on the sliding rail. After it is in place, it is manually locked by the eccentric shaft. The top is driven by a hydraulic cylinder to realize the top tightening and loosening. The upper and lower body of the tailstock adopts a compact structure design, and the strict scraping process ensures the contact rigidity of each joint surface.
6. Two-axis feed
The two-axis feed is directly connected to the ball screw by the servo motor through the coupling. The pre-stretching assembly process avoids the elongation and longitudinal bending of the lead screw due to temperature rise during operation.
Main technical parameters of LH260:
| Item | | Unit | Specification | Remark |
| --- | --- | --- | --- | --- |
| Max. swing over bed | | mm | 520 | |
| Max. cutting length | | mm | 600 | |
| Max. cutting diameter | | mm | 360 | |
| Max. swing diameter over carriage | | mm | 300 | |
| Standard cutting diameter | | mm | 260 | |
| Spindle nose type | | | A2-6 | |
| Spindle bore diameter | | mm | 65 | |
| Max. passing bar diameter | | mm | 50 | |
| Single spindle spindle box | Spindle speed range/ | r/min/Nm | 50~4500/177 | GSK988TA |
| | Max. spindle output torque | | | |
| Main motor output power | Continuous/30 minutes | kW | 11kw/15kw | ZJY265A-11AM-B5 |
| Standard chucks | Chuck diameter | inch | 8² | |
| X-axis rapid traverse speed | | m/min | 30 | Rolling guides |
| Z-axis rapid traverse speed | | m/min | 30 | Rolling guides |
| X-axis travel | | mm | 200 | |
| Z-axis travel | | mm | 650 | |
| Standard tool turret form | | | Horizontal 8-station | |
| Tailstock travel | | mm | 450 | |
| Tailstock sleeve travel | | mm | 100 | |
| Tailstock spindle taper hole taper | | Morse | 5# | |
| Tool size | External circular cutters | mm | 25×25 | |
| | Boring bar diameter | mm | φ40/φ32/φ25/φ20 | |
| Can the cutter head choose the closest cutter? | | | Allowable | |
| Machine weight | Total weight | kg | 4300 | |
| Max. load capacity | Discs parts | kg | 200(Including machine accessories such as chucks) | |
| | Axial parts | kg | 500(Including machine accessories such as chucks) | |
| Size | L×W×H | mm | 2555×1690×1750 | |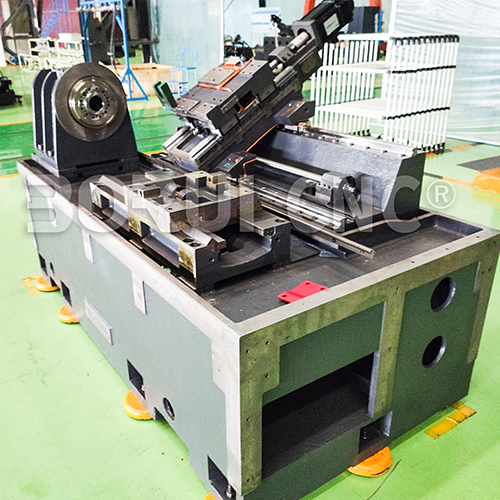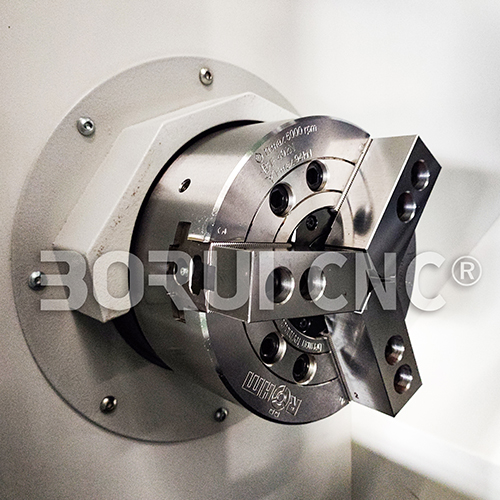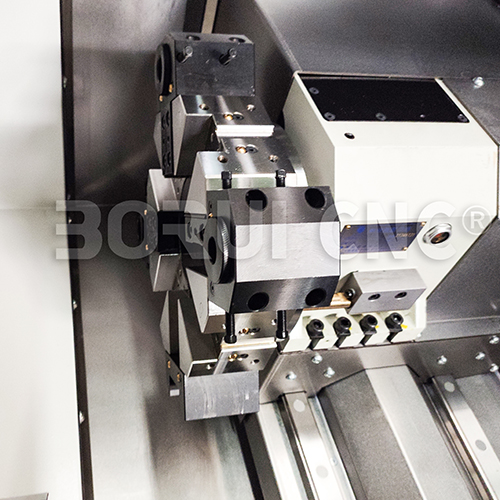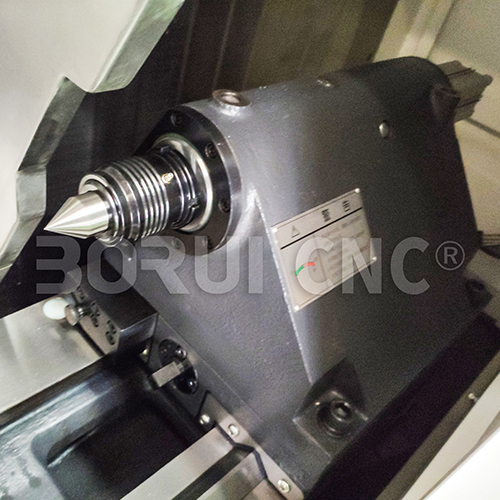 Video Display