Main structural features of universal rotary head milling machine:
1. The machine tool has good rigidity and can withstand heavy load cutting.
2. The power of the spindle motor of the machine tool is high, and the speed change range is wide, which can give full play to the efficiency of the tool and can perform heavy cutting.
3. The machine tool has a perfect lubrication system.
4. The digital display device can be configured according to user needs.
5. The wear-resistant castings of the machine tool are made of vanadium-titanium wear-resistant cast iron, and the important parts are made of high-quality alloy steel, which is stable and durable.
6. The spindle has good rigidity and strong bearing capacity. The X6436 universal rotary head milling machine bed is a rectangular guide rail bed with good stability.
7. The three items XYZ of the worktable are all automatic feeding, and the guide rail pair in the three directions of X, Y, and Z is supersonic quenching and precision grinding.
8. The manual lubricating device can force lubricating the lead screw and guide rail.
9. It can realize two functions of vertical milling machine and horizontal milling machine. The two-section rotary spindle can be rotated and adjusted at any angle, and can be used to process shells and molds.
10. If appropriate accessories are used, parts with special shapes such as gears, cams, arc grooves and helical surfaces can be processed, and milling machine accessories such as universal milling head, circular table and indexing head can be configured, which can further expand the use range of the machine tool
Universal rotary head milling machine technical parameters:
| SPECIFICATIONS | Units | X6432 | X6436 |
| --- | --- | --- | --- |
| Table size | mm | 1500*320 | 1500*360 |
| Table travel | mm | 1000/320/400 | 1000/320/400 |
| T slot(number-width*pitch) | | 3-16*60 | 3-18*80 |
| Spindle taper | | ISO40 | ISO40 |
| Horizontal spindle taper | | ISO40 | ISO40 |
| Spindle speed range(steps) | rpm | 48-1660(12) | 48-1660(12) |
| Horizontal spindle speed range(steps) | rpm | 40-1300(12) | 40-1300(12) |
| Distance between spindle nose and table surface | mm | 120-520 | 150-550 |
| Distance between horizontal spindle axis and table surface | mm | 0-400 | 0-400 |
| Table feed range(steps) | mm | XY:22-555(8)Z:electric | XY:22-555(8)Z:electric |
| Swivel angle of milling head | ° | 360 | 360 |
| Main motor power | kw | 3(V)/3(H) | 4(V)/4(H) |
| Feed motor power | kw | 1.1 | 1.1 |
| Machine weight | kg | 2100 | 2580 |
| Overall dimension | mm | 2050*1750*2000 | 2550*2050*2050 |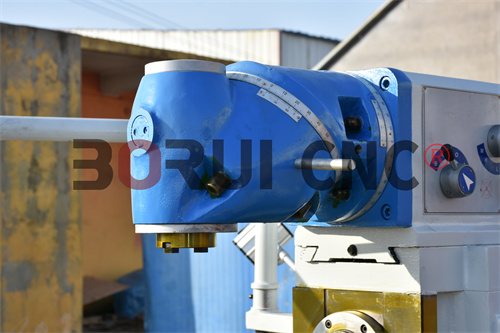 MILLING HEAD

Milling head can be rotated at any angle,with six speed change,can be used for end face drilling,milling,reaming.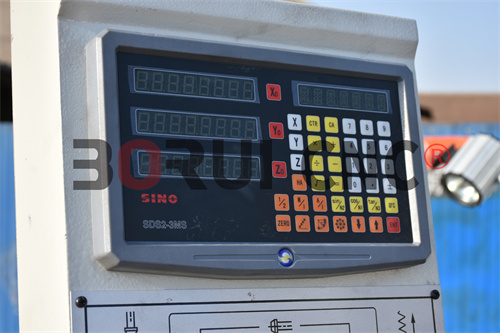 BOOM TYPE OPERATION BOX

The operating system is suspended above the side of the machine tool through the supporting arm;
Operation with three axis digital diplay,more accurate.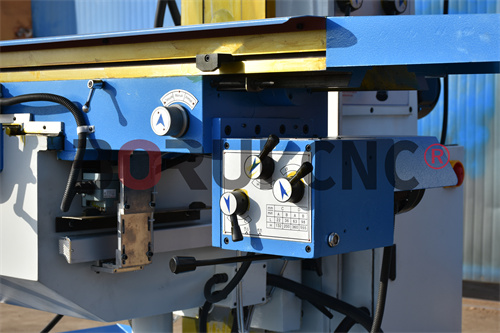 MULTI-SPEED TRANSMISSION

X/Y axis automatic feed
Can be low, medium and high multi-speed speed change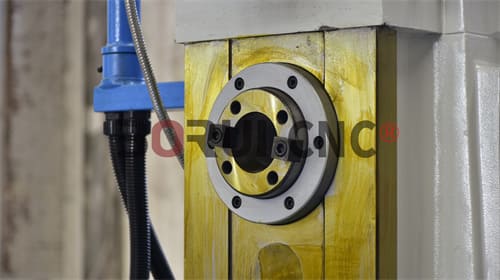 HORIZONTAL MILLING SPINDLE

Can drill and mill, multi-purpose machine.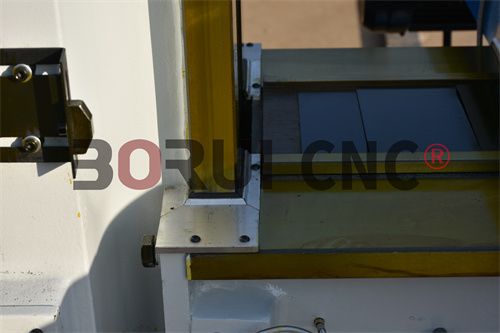 RECTANGULAR GUIDEWAY

X-axis,Y-axis,Z-axis adopt rectangular guide rails,running smoothly and stability.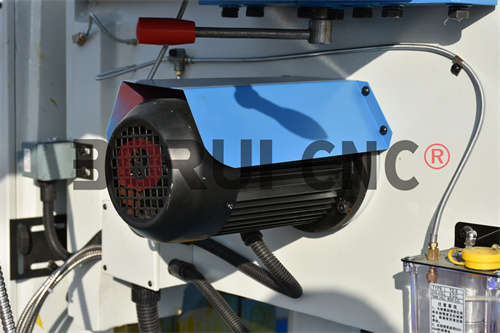 LIFTING MOTOR

Standard lifting motor,high efficiency,low noise,easy to operate.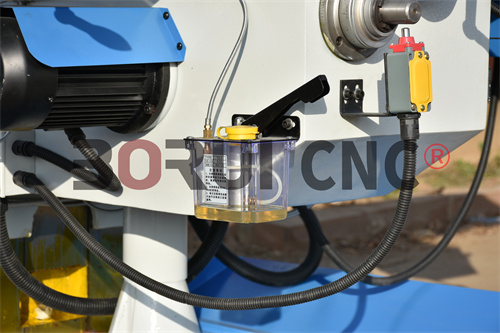 MAUNAL LUBRICATION

Manual lubrication is used to prolong the service life of the machine.
Video Display