Features Of Vertical And Horizontal Turret Milling Machine X6336:
The X6336 turret milling machine can be widely used for processing planes, inclined planes at any angle, milling keyways, grooves, and can also be rotated, reamed, and boring. Rotate 360 degrees. The spindle has a large speed change range and a high speed. The spindle sleeve can be fed with a motorized fixed range and is equipped with an overload protection device. The spindle sleeve, machine tool guide rail, and worktable are all processed by high frequency hardening, which is beautiful and practical. Optional motorized feeding device and digital display system are available.
1. It can realize two processing functions of vertical and horizontal milling.
2. The vertical milling head is equipped with a turret milling head, and the spindle sleeve has the functions of automatic, manual and manual fine-tuning.
3. X, Y, Z three-direction guide rail pair is ground after ultrasonic quenching.
4. Motorized feed in X, Y and Z directions of the worktable.
5. The X-direction travel of the worktable can reach 1000mm, and the Y and Z directions are wide rectangular guide rails.
6. The manual lubricating device can forcibly lubricate the screw rod and guide rail.
7. The machine tool is also equipped with an operation panel, which greatly improves the work efficiency.
Technical parameters of vertical and horizontal turret milling machine X6336:
SPECIFICATIONS
Units
X6328
X6332
X6336
Table size
mm
1200*280
1370*320
1500*360
Table travel
mm
600/240/360
800/300/400
1000/320/450
T slot(number-width*pitch)
3-14*63
3-14*70
3-18*80
Spindle taper
ISO407:24
ISO407:24
ISO40 7:24
Horizontal spindle taper
ISO40 7:24
ISO407:24
ISO507:24
Spindle speed range(steps)
rpm
50HZ:65-4500(16) 60HZ:80-5440 opt. (variable)65-4000
Horizontal spindle speed range(steps)
40-1300(12)
40-1300(12)
60-1800(12)
Spindle travel
mm
127
127
127
Spindle feed range(steps)
mm
0.045,0.086,0.142(3)
0.045,0.086,0.142(3)
0.045,0.086,0.142 (3)
Distance between spindle nose and table surface
mm
140-500
140-540
140-590
Distance between horizontal spindle axis and table surface
mm
0-360
0-400
0-450
Main motor power
kw
2.2(V)/3(H)
2.2(V)/3(H)
3.7(V)/4(H)
Head rotation (left -right)
。
+90°
±90°
±90°
Head rotation (front -rear)
。
±45°
±45°
±45°
Machine weight
kg
1400
2000
2400
Overall dimension
mm
1550*1650*2250
2200*1820*2350
2600*2200*2550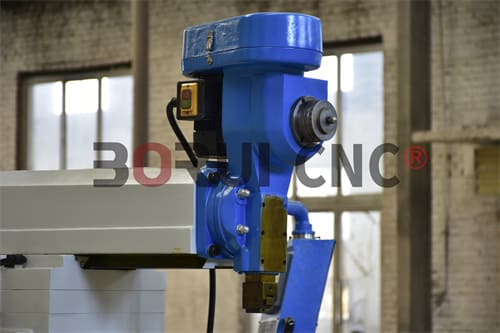 TAIWAN TURRET MILLING HEAD

Turret milling head can seivel 45°
(Fornt-rear),rotate 90°(Left-right).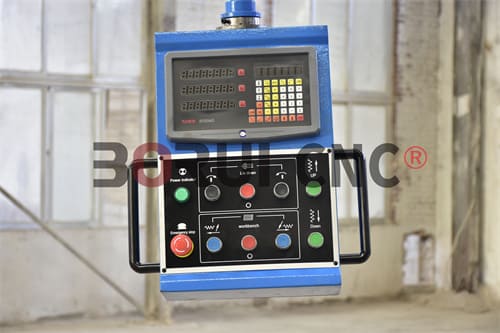 BOOM TYPE OPERATION BOX

Independent button operation box,eas to use.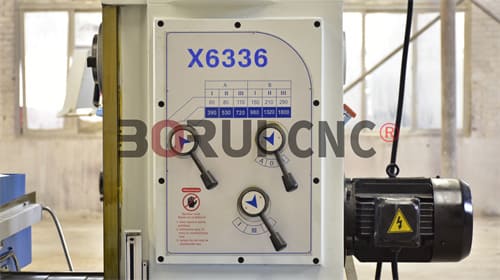 MULTI-SPEED TRANSMISSION

X/Y axis automatic feed
Can be low, medium and high multi-speed speed change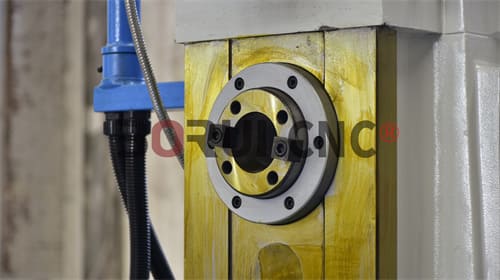 HORIZONTAL MILLING SPINDLE

Can drill and mill, multi-purpose machine.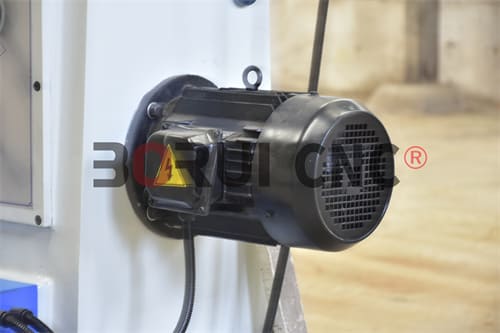 PURE COPPER MOTOR

Adopt pure copper motor, long service life.
Video Display