Features of CNC drilling and tapping machining center BR600:
1. FANUC-31I CNC system with the strongest performance in history, high performance, high stability and high efficiency:
1) High-speed data processing capability. In the process of three-dimensional processing, if the unit precision is set to 0.001mm, it will mean that the capacity of the processing program is several times higher than the original program capacity. It is impossible to do without a high-performance and high-speed CNC system. Good for this part of the data processing! Most of the drilling and milling centers on the market still use the low-level FANUC-0iMC CNC system, and it is inevitable to be unable to process data.
2) FANUC CNC system is relatively popular in the market, many people will use it, and it is more convenient for enterprises to recruit employees.
2. The high rigidity spindle, in addition to the normal drilling and tapping, has the biggest advantage in milling and boring:
1) Whether it is a 10000 rpm or 24000 rpm spindle, it is 11Kw/3.7Kw (1 point rated power/continuous rated power): that is to say, the spindle of the FANUC machine tool can perform rigid machining actions in a short time, such as rough milling , Boring, which is beyond the reach of other Japanese brand machining centers! The spindles of other brands are generally 5.5Kw/3.5Kw (30 points rated power/continuous rated power).
2) The structure in which the motor and the spindle are directly connected, that is, the direct-connected spindle.
3) Bearings loaded with grease are adopted, which can be used for a long time without frequent maintenance.
4) The high-speed spindle adopts high-speed and high-precision bearings with low heat generation.
5) The high-torque specification of the main shaft increases the torque in the low-speed area by 32%, from 53Nm to 70Nm.
6) The more complex the shape and surface are.
3. High acceleration positioning
1) High-speed control, optimal torque acceleration and deceleration control, all three axes can reach a high acceleration of 1.3G, the acceleration means the reaction speed of the machine tool when it moves, the higher the acceleration, the faster the reaction speed of the machine tool, adjust the movement direction to move the shorter the time.
2) Here, many friends are misleading, thinking that the faster the rapid feed speed (many brands of Taiwanese machines or Korean machines say that the rapid feed speed can reach 50m/min), the faster the response speed and processing efficiency, This may not necessarily achieve high efficiency and high reaction speed. Especially in small machining centers, since the stroke is small, the rapid feed rate is of little significance, and the most important parameter is "acceleration"! Not to mention there is a "cutting speed" that reflects the cutting efficiency. So it is not easy to be confused by "rapid feed rate".
4. High precision and high stability
1) The ultra-high-resolution pulse encoder performs interpolation and feedback in nanometers, and the minimum precision unit can be set to 0.0005mm.
2) Nano Interpolation, AI Contour Control II (Option), Shock Control (Option), NURBS Interpolation (Option), Nano Smoothing (Option), Fast Data Server (Option) .
3) High-reliability mechanical structure, most customers of FANUC machine tools work 30 days a month × 24 hours for a long time, the machine tool can keep the accuracy stable and the failure rate is extremely low!
5. AI thermal displacement compensation function
The standard configuration of the three-axis AI thermal displacement compensation function compensates the thermal displacement caused by the movement of the main shaft and the feed axis to ensure high machining accuracy.
6. AI contour control II, HRV control
1) The shape error is greatly reduced by the servo delay
2) Extremely smooth machined surfaces can be achieved with AI Contour Control II. This is particularly strict in the processing of consumer electronics!
7. Robot automated production line
FANUC itself also produces manipulator products, and the numerical control system also uses the FANUC system. There is no problem in product compatibility, so that when customers want to build an automated production line in the future, whether it is a small processing unit or a large-scale assembly line, it is easier to be compatible with and convenient.
8. The field of use is wider, and the risk of customers is decomposed in many aspects
In addition to processing precision parts, FANUC small machining center can also process copper electrodes for molds. If the customer's order is not very sufficient, it can also process similar copper electrodes.
9. 4-axis/5-axis simultaneous machining
FANUC small machining center is one of the manufacturers with four/five-axis linkage machining technology in the market. Most of the drilling and milling center machines of other competitor brands in the market are fake four/five-axis machining, which cannot achieve four/five axes. Axis linkage machining.
The special technical parameters of CNC drilling and tapping machining center BR600:
Product name
Drilling and Tapping Center
Model
Terms
BR—600
BR—700
X-axis Travel
mm
600
700
y-axis Travel
mm
400
400
Capacity
Z-axis Travel
mm
350
350
Spindle nose to table surface
mm
135-485
135-485
Spindle
Spindle Speed
rpm
20000/2400
20000/2400
Tool storage capacity
PCS
16/21
16/21
Max.tool diameter (adjacent tools)
mm
50(120)
50(120)
A.T.C
Max tool length
mm
250
250
Max tool weight
kg
3
25
Tool change time(T-T)
sec
1.6
1.6
Motor
Spindle power (30-minute stop-motion)
kw
3.7/5.5
5.5/7.5
X/Y/Z-axis motor power
kw
1.5/1.5/3.0
1.5/1.5/3.0
Worktable
Table size
mm
700x420
700x420
Table T slot size (No. - width)
mm
3*14*125
3---18
Worktable-Loading
kg
300
300
Fast Rapid
X-axis fast rapid
m/min
48
48
Y-axis fast rapid
m/min
48
48
Z-axis fast rapid
m/min
48
48
Cutting feed rate
Mm/min
5-20000
5-20000
Accuracy
Positioning accuracy
mm
±0.003/300
±0.003/300
Repeatability positioning accuracy
mm
±0.005/300
±0.005/300
Machine size
Weight
kg
3500
4500
Power demand
KVA
20
20
Overall Size
mm
2220X1900X2300
2320X1900X2300
Tank capacity
L
210
210
Compressed air
Kg/m2
6--8
6--8
CNC drilling and tapping machining center BR600: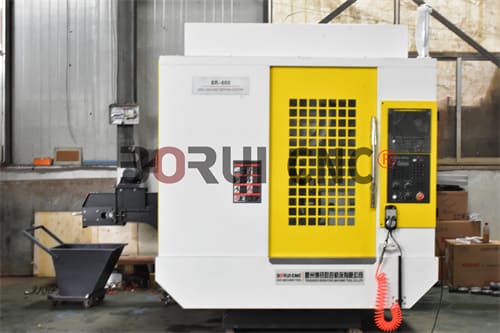 Solar ATC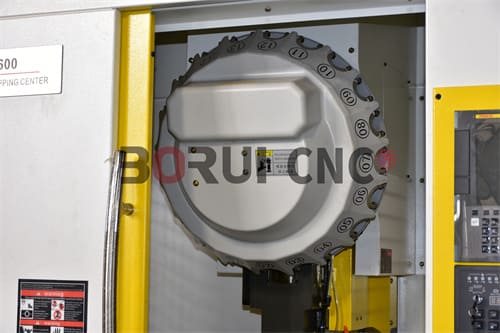 Chip removal device of CNC drilling and tapping machining center: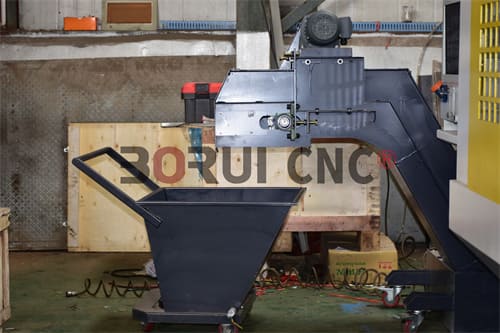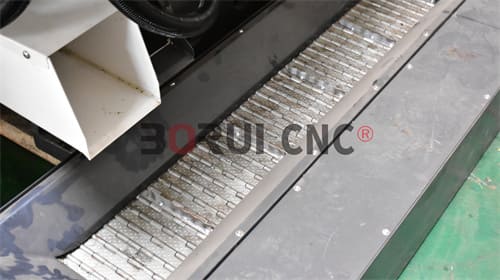 Taiwan spindle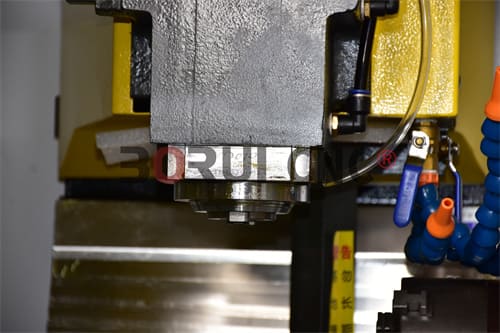 4 axis drilling and tapping machining center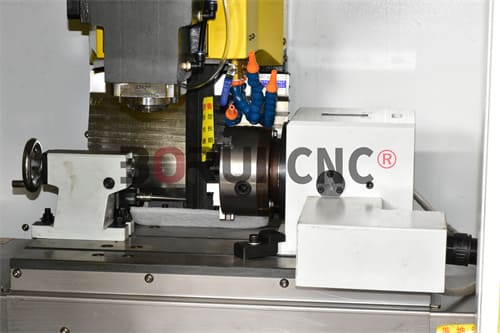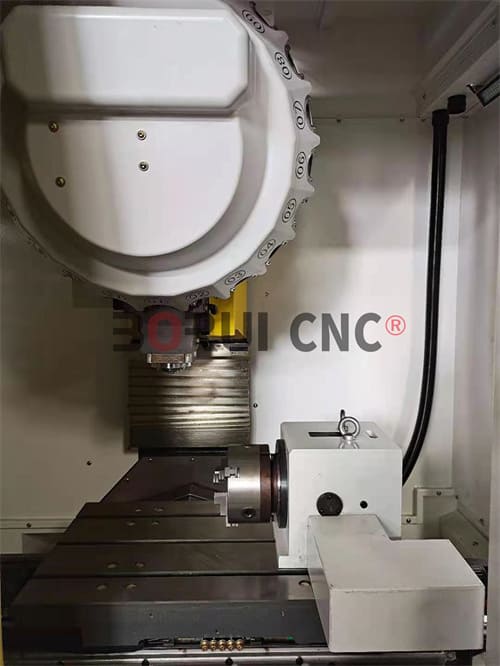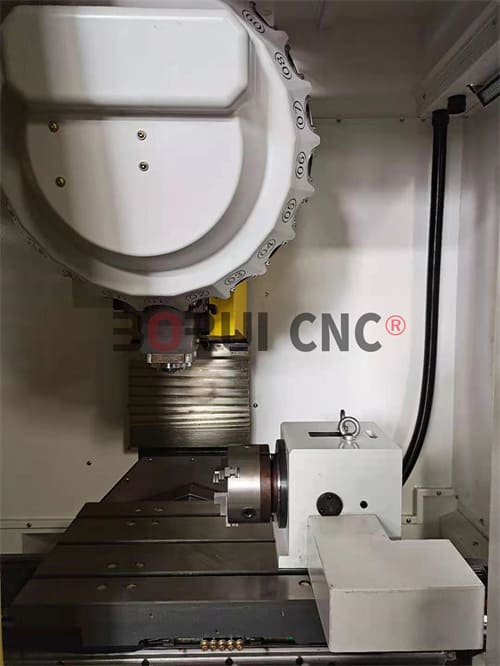 Application of CNC drilling and tapping center:
Drilling and tapping machining center, multi-face and contour machining in milling, boring, side cutting, i.e. machining various types of automotive parts. Three-dimensional machining of resin models, electrodes, precision parts and molds with high speed and high precision. And it is suitable for high-speed cutting of light metals such as aluminum to the processing of electrical appliances and small parts of stainless steel. It can also deburr and chamfer magnesium injection molded parts, die cast parts, forged parts, etc.
It has unique advantages in CNC processing speed and three-dimensional processing! Especially the copper electrode processing of mobile phone molds has an overwhelming advantage! And its cost performance is unmatched by other Japanese high-speed machines. High performance stability, less failure. The fast data processing speed leads to high efficiency and high surface quality (especially surface finish). It is widely used in communications, IT, auto parts, electronics, digital products, machining and other fields.
Video Display